The Remote Color-Changing RGB,RGBW controller is developed to provide an impressive accent to fountains, connecting easily to the top of the fountain with a complete fitting. our remote controller could operating program to make the lights working .These underwater lights are extremely energy efficient , it is led light sources, it could used for mini fountain or small garden , pond etc,. in another words under 350W is acceptable.
let me show you our products: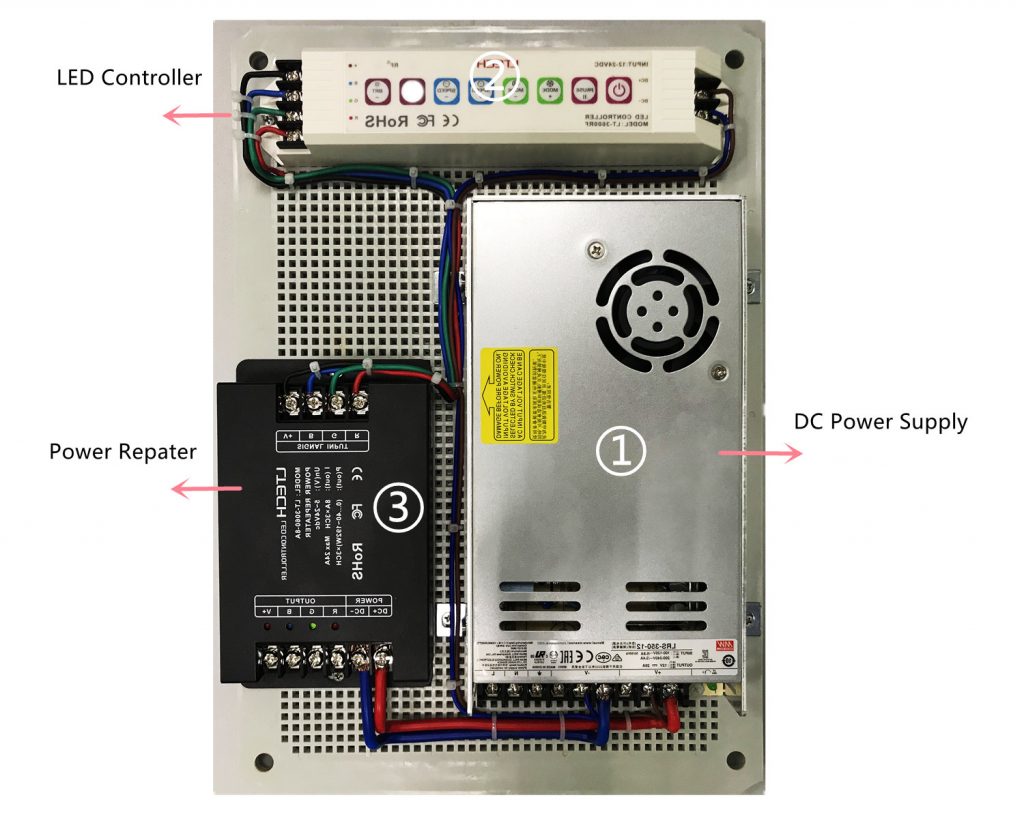 ① Power Supply :  350W is the best one for lighting system ,  stable quality with reasonable price , it wild used for DC Voltage .
② Controller; it is RGB or RGBW controller ,  could running 4 wires or 5 wires control led lighting fixture ,
4 Channel RF Controller RGBW/RGB/CCT/Dimming Multfunction Controller
Input voltage: 12-24VDc
Output type: PWM constant voltage
Output current: max 6A/CH, Total max 15A
more about information could click this : RGB Controller for fountain , please let me know if you want connect more lights , it needs custom-made.
③ Power Repeater: LED power repeater accepts PWM control. The controlled LED quantities would be double or triple by adding one more power repeater. Unlimited power repeaters could be connected theoretically. It has Short circuit/Over current/anti-reverse connection safety protection.Constant voltage and constant current LED power repeater can be mixed connect, facilitate different voltage, high power and low power LED lamps controlled by one controller. more information about this : LED Power Repeater 
it could used for indoor and outdoor , keep it dry in outdoor environment , all the fitting we has fixed on the honeycomb panel ,  only connect to 220V/110V to switching power supply , controller connect your led lighting then it will working .
Now 120V/220V high voltage 4 , 5 Wires controller available now , please let me know if you are interested in .