Underwater IP68 waterproof LED strip lights are a great way to add lighting to your pools, fountains, and other water features. They are also very energy-efficient and long-lasting, low cost and good effect , installtion are easy , it's a popular choice for waterproof lighting for outdoor.  LED strip lights is a normal led lighting , it is a type of linear lighting that uses a series of light-emitting diodes (LEDs) to produce light. They are available in a variety of colors, including white, RGB (red, green, and blue), and color-changing. RGB LED strip lights has dmx control and ISP control , you can remote control the color .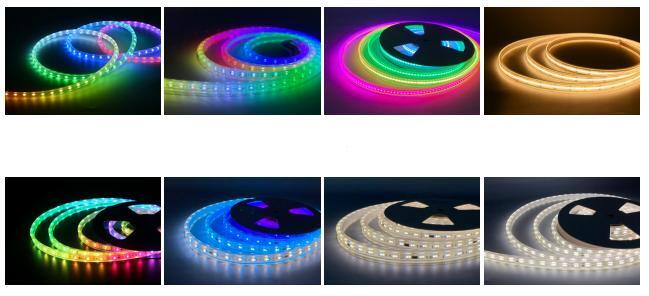 So what's the advantages for our IP68 LED strip lights?
1. The highest flame retardant grade, self-extinguishing when removed from fire, and superior safety performance. A short circuit in the low-voltage circuit will cause the lamp to heat up and burn. Materials with flame retardant grade V-0,Can be extinguished by itself to ensure the safety of the project.
2. Integrated LED has excellent impact resistance and pressure resistance, reaching IK10.
3. our IP68 Led strip Lights Anti-UV, not easy to turn yellow or crack; passed the salt spray test, can be used in high-salt environments such as the seaside, Long-term use in foggy areas.
4. Can be used at -40℃ to 55℃. Made of blended modified engineering plastics, it has strong weather resistance, resistance to hot and cold shock, good antistatic properties and thermal conductivity, and can be used outdoors for more than five years.
5. The lights control system cooperates with mobile phones, infrared sensor probes, sound collection, environmental monitoring and other equipment to realize dimming, point-by-point control, human-light interaction, and supports multiple protocols such as SPI and DMX512;
6. Updated engineering materials in different states of the same base material are used to encapsulate electronic circuits, so that various waterproof materials can be integrated at the molecular level to achieve the process of achieving a high IP68 protection level for our underwater led strip lights.
Check the Catalog online:

Install underwater LED strip lights for your pool or fountain, use them to light up the entire pool or to create specific lighting patterns. You can also use them to highlight specific features of your pool, such as waterfalls, fountains, or steps. Once the strip lights are in place,connect them to the power adapter then they will make your pleace colorful . about the color we accept sutom-made .