Our company offers a range of fountain products and solutions, including LED lights , nozzles ,solenoid valve and water fountain . The company is known for its innovative and high-quality products, and is dedicated to providing customers with reliable and cost-effective optoelectronic solutions.
In addition to its core led lighting business, we also provides technical support and after-sales services to ensure customer satisfaction. The company is committed to the development of the fountain industry and is dedicated to promoting the use of outddoe LED lighting and other optoelectronic technologies in a variety of applications.
Following are feedback from our client.
Overall rating for us

of course , they are satisfied our products after first deal , so don't worry about our quality , we are a reliable manufacturer , Trust us.
Comments from all over the world
the all the data from different country and real buyer, let's see it .
United States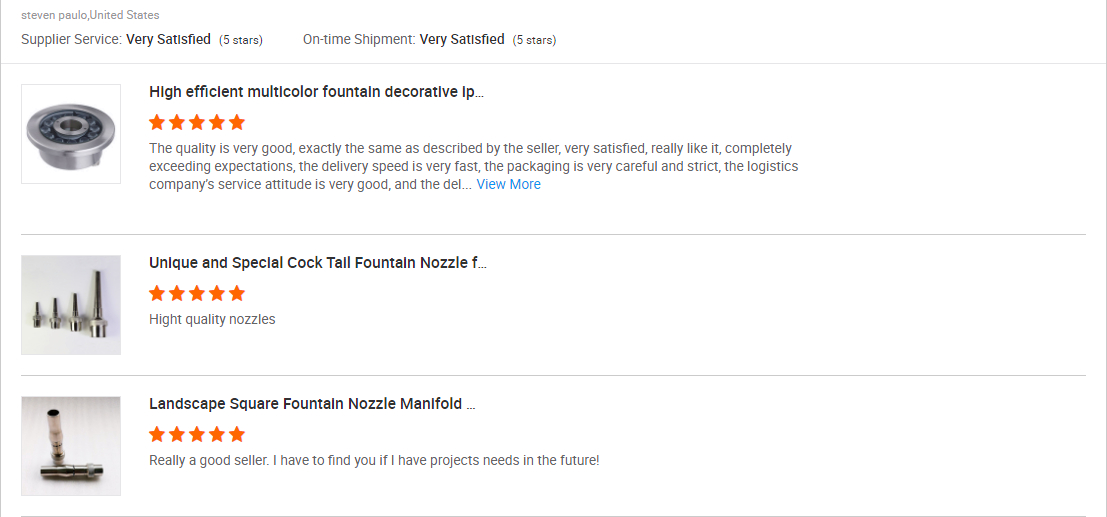 Australia

Kenya

Poland
Russian Federation

we could help saving time to looking for a reliable manufacturer on internet , why not cooperating with us if our products with reasonable price and it is high quality .
Easy payment ( support credit card) , fast shipment (FedEx, DHL )and other competitive shipping method, we will find the best solution for you .