The water fire fixture for fountain typically refers to a combination of water and fire elements incorporated into a fountain fixture which could blend the water and fire in fountain. The fire burns on top of the water column, which varies with the height of the water column. It adds a unique and mesmerizing visual effect to the fountain.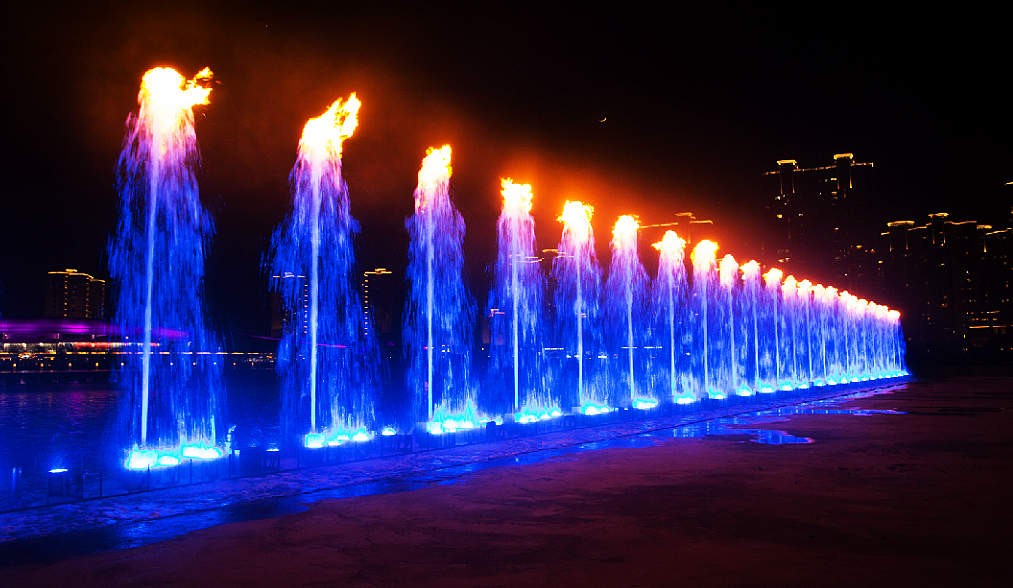 These fixtures are designed to safely incorporate fire elements into the water feature, creating a stunning display. it is fueled by propane or gas , and it is important to ensure proper installation and adherence to safety guidelines.
Water fire fixtures can enhance the ambiance and aesthetic appeal of a fountain, creating a captivating and dynamic focal point. They are often used in high-end commercial , residential fountain installations or fountain event providing an impressive visual experience for viewers.
Iteam No.
XYHB1-6
Water Height
0.5-6M
Connection port of Fuel
1′ G type Thread
Working Pressure
0.1-0.15 Mpa
Wattage of Pump
2.2Kw
Led Lights
RGB 54W 2PCS
Material
304/316 Available
Size of Water Fire Fixture
420*655*775
Net Weight
150KG
Waterproof Level
IP67
Control Method
DMX512
Voltage
AC380V / 3P+N
Rated Power
2.3W
Features:
It are different with fire fountain , we adding the water basis on the fire fountain
The dmx water fire fixture for fountain includes water pumps, water and fire special effects fixture, pipelines, Led underwater lights, ignition systems, fuel output systems, etc.
The ignition device needs to be on the water
Adopt 512 control protocol, compatible with other control software in the industry.
The fixture reserves power lines and signal lines, and is controlled by DMX signals after power on. more about dmx function about this fixture please contact me .
Suitable for fresh water, not recommended for sea water (part of fixture corrosion after 2 years)