Jumping Jet Water Fountain Project
When the Jumping jet water fountain working, the water column are arched and smooth, water shape not disperse, and sprays along the set trajectory, it seems as a rainbow, the crystal clear water column shines with different colors which from a inside ​led fountain lights
This project is built at the entrance of the amusement park. 42 set of jumping jet fountain form a time tunnel through which you can experience the wonderful changes of light and shadow, the sound of gurgling water and the cool water mist.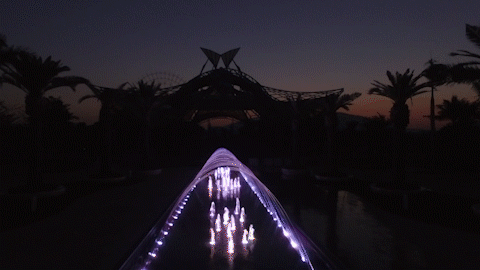 plus size jumping jet water fountain can reach 8-10 meters, and the span of the medium and small can be set according to the needs. It is often used as a combination of fountain landscape construction, can be used for dry spraying, interactive, commercial buildings, swimming pool water scenery, etc.,
The greater the span of the arch, the greater the influence of wind on it, so the wave fountain needs an environment with a relatively low wind speed; the wave fountain needs to clean the nozzles frequently, and the sprayed water column can ensure smooth and clear.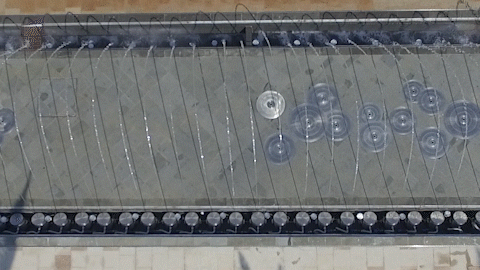 Jumping jet water fountain can also let visitors experience the feeling of walking during the day, and the full-color fountain lights at night can show the unique effect of colorful and radiant colors.
The jumping jet fountain is also a fountain with interesting shapes in common language, because its water column is stable and not scattered, and it has a powerful effect on the interaction of visitors.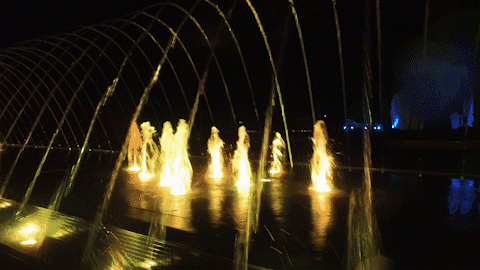 This project is located at the seaside. The entrance plaza and service hall are specially designed as conch shapes. Through wave fountains, springs, mirrored waterscapes and lights, ride the Ferris wheel, play water slides, or look down in the surrounding high-rise buildings in the amusement area. The shape is also vivid and clearly visible.