before , we got the feedback from our client , they wants to buy Small size submersible water led fountain lights, and now available . made in stainless steel also , it's waterproof and quality products.
6 LED Light — With RGB basic color , support single color or mulitcolor available. adding extra color to your fountain, aquarium, pool, garden, pond.
Safe and Long Cable — Complies with international safety requirement, 1M H05RN-F waterproof cable. it could be custom-made.
Support DMX512 Control if you want your fountain get more color, 4 wires control system needs LT-3600RF controller(more information click this: Fountain Lighting Controller )
Small size submersible water led fountain lights center hole max size is 25mm ,please check your pipeline size.
This 304 material is designed for reliability. It is anti-corrosive, acid-resisting and durable. , outdoor fountains, water feature and water garden.
installation like the following (this is cast aluminum material) :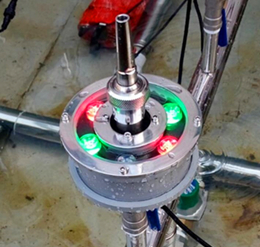 Features:
-150MM  size submersible water led fountain lights .
-Easy installation on pipeline or concrete
-IP68 waterproof level.
-Suitable for home decoration,water garden , small fountain .
-Saving Power and durable.
-Safety and corrosion preventive