How to Choose led Lights For Floating Fountains
The floating fountains come with three fountain nozzles and led lights which can come in displays of different tiers.  three led lights with different colors that give you a fascinating mix. With the day-night sensor, the lights can turn on and off according to the ambient light. Some fountains have detachable sensors, so you can make the lights glow 24 hours a day.
The wire is about 50-feet long. This will help you properly plug you floating fountain. The cable needs to be highly durable for you to have a product that lasts a long time. Different
floating fountains
require different power for functioning. An average fountain needs about 130 Watts, Compared to the LED submersible lights, they are heavier, But they are not as heavy to not even float. The premium build quality also ensures that fountain working long time.
As usual, floating fountain choose 6W-18W led submersible lights, diameter from 120mm-150mm around , installation 3 set lights on floating fountain .you can view our Pudisc120G ,Pudisc145G ,Pudisc170G type, stainless steel material and high brightness led lights. it will light the color in evening.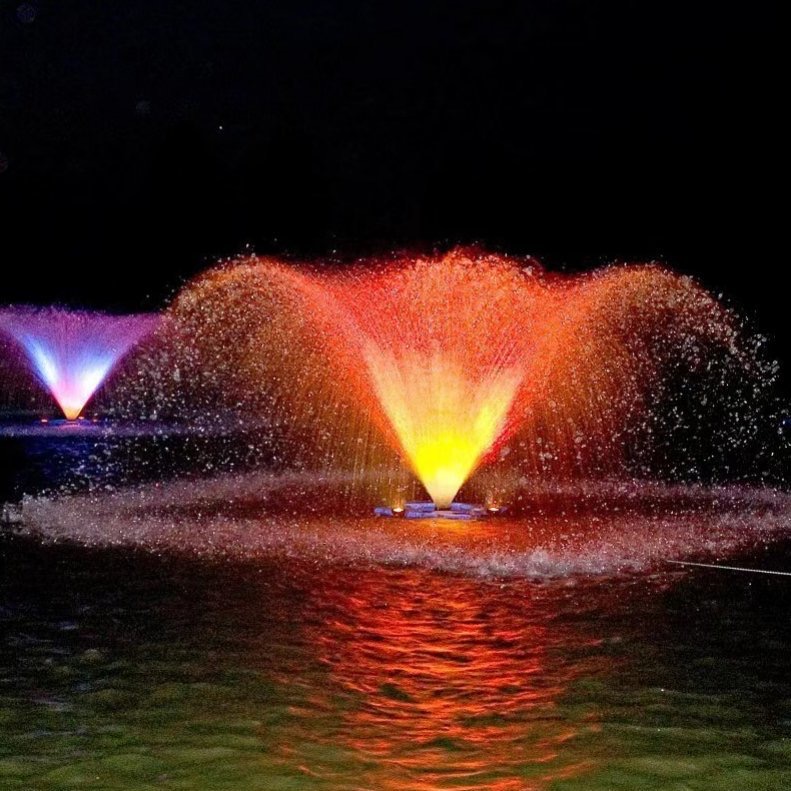 Everyone appreciates beauty be it natural or artificial. Your pond may look messy and boring at night. But once you install this floating fountain, the pool fountain with lights ensure that boredom goes away. The amazing sprinkle with the lights installed makes sure you get a smile on your face.
This floating fountain frees you from the hassle of construction and is super quick to install. You can plug- and-play it right after the purchase. So, if you are someone who has a busy schedule, and still would love to have a beautiful fountain, you should definitely consider it. Getting the perfect fountain for the pond was never easier.
There are several medical benefits of having a fountain. Stagnant water can be a habitat for mosquitoes. These mosquitoes can cause several diseases. When the water of your pond is in circulation, there is no chance these insects make their home there. It also helps get rid of the algae that may be growing inside your pond. Thus, it helps to keep your pond clean too. When the water stays in circulation, it won't give any bad odors. So, it will always be pleasant to sit beside the pond and chat with your loved ones. So, it's always a win-win to install one of these in your pond.
What are you waiting for? Get your floating fountain today for an overwhelming experience.