This is a special fountain nozzles , used for pool fountain , support dmx512 control , from 0 to 360 angle movable ,make the water dancing . i think you saw the fixed nozzles in fountain , don't know about digital fountain nozzles right ?  today let us know more about dancing robot swing digital fountain nozzles 1D.
Let's see the structure of swing digital fountain nozzles: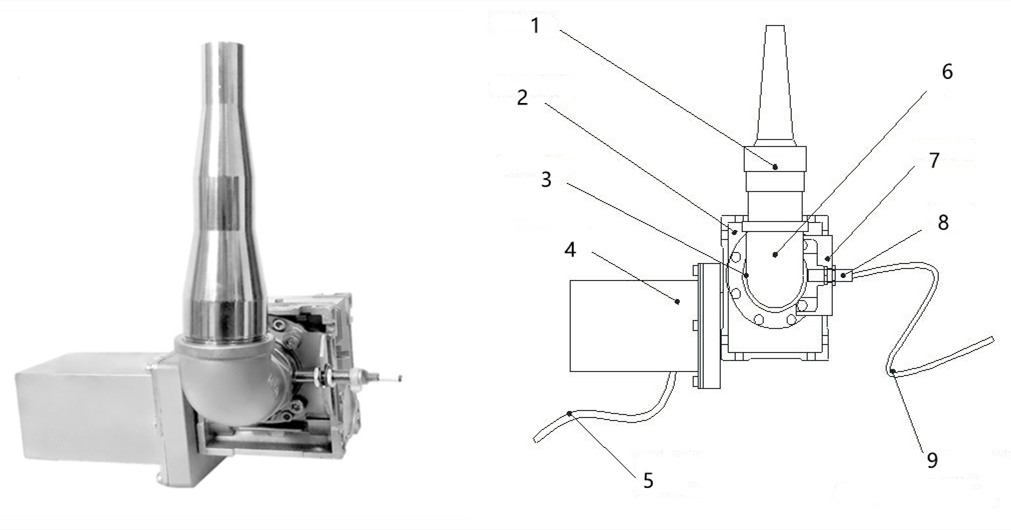 1.it's normal nozzles, you could connect any nozzles what you want , it support  1 1/2" and 2" G type thread.
2. Reducer , Increase torque.
3.Adjustable detector ring ,you can adjust the locating point.
4. Waterproof motor , it work under stepper driver .
5.Power Line , connect to stepper driver , 4 wires cable . A+,A-, B+,B-.
6.Stainless steel elbow, connect to nozzles and housing of robot.
7. Induction bracket, it reset the nozzles, make it find the zero position.
8.Sensor, work with induction bracket.
9. Cable of sensor, 3 cores line , two line for power supply, DC24V , another is signal .
Above is basic information about dancing robot swing digital fountain nozzles 1D ,on our e-catalog has some information : Click here
it  is DMX control with 8 channel , every channel with different function, please contact me if you are interested in this , i will tell you more about it .
How it work in fountain:
The dancing robot swing digital fountain nozzles 1D  is controlled by a stepping motor. It is also commonly known as a one-dimensional swing nozzle in the industry. It means that the nozzle moves in a circle in a plane with one degree of freedom and can reach 360 rotations, it working in X or Y axis. The water pattern is synchronized with the movement of the stepping motor, it wide used for fountain ,water show ,musical fountain etc,.