The fireworks nozzle is intended for porous diffusion. mainly for small pond , garden , private yard. The center of the water column and spraying using a nozzle formed three layers of parabolic spray with radiation directed outwards. Center of nozzles is straight water shape , Middle layer and outer layer water shape with different angle. The shape of the water is very beautiful for the courtyard, the garden water basin, the park fountain, the hotel fountain.
The fireworks nozzle increases its pouring effect by adding volume to the pool water and is used in various ways to achieve spectacular results. In this way a very heavy and powerful effect is achieved with little change. we can set a fireworks nozzles in pond ,make your garden live. click here :  pool fountain nozzle , know more about nozzles for fountain.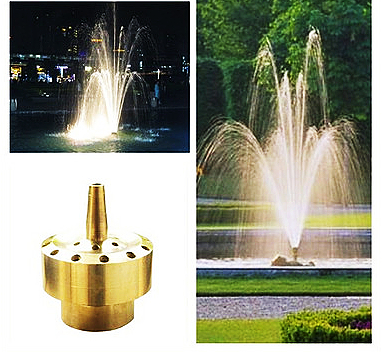 Installation is very simple and user-friendly. The fireworks nozzle is easy to install, only requires a Plastic hose and a 10L around submersible water pump. Nice design, easy to install, suitable for a wide variety of pond and water garden. according the height of water , size of nozzles to choose flow of pump, plastic submersible water pump is ok .
The fireworks nozzle head has different sizes and material for your different decorations or occasional requests. You can choose different sizes according your existing fitting. it has stainless steel and brass material , following is parameter about nozzles:

brass nozzles size: 1/2 " , 3/4 " , 1" , 1 1/2 ", 2" G type internal thread . 1/2 " with 3m³/h ,it could spray 1.3M around.
3/4 " with 5m³/h ,it could spray 1.5M around.
1 " with 7m³/h ,it could spray 1.5M around.
1 1/2" with 10m³/h ,it could spray 1.8M around.
2 " with 12m³/h ,it could spray 2M around.
stainless steel nozzles size: 1" ,1/2 ", 2" G type internal thread . flow and spray referencing brass nozzle