2, 3, or 4 pin IP68 waterproof wire connector  for our underwater led lighting , it is a type of electrical connector that is designed to be used in wet or underwater environments. It is made of a durable plastic material that is resistant to corrosion and water damage.
The connector has two, three, or four pins that can be used to connect wires of different sizes. The pins are insulated and have a rubber seal that helps to keep water out of the connection.


2 pin waterproof wire connector use for signal color lights
3 pin waterproof wire connector use for high Voltage lights (it with ground line) , dmx signal line.
4 pin waterproof wire connector use for 4 wires control lights and dmx lights (power line and siganl in a cable,4 cores)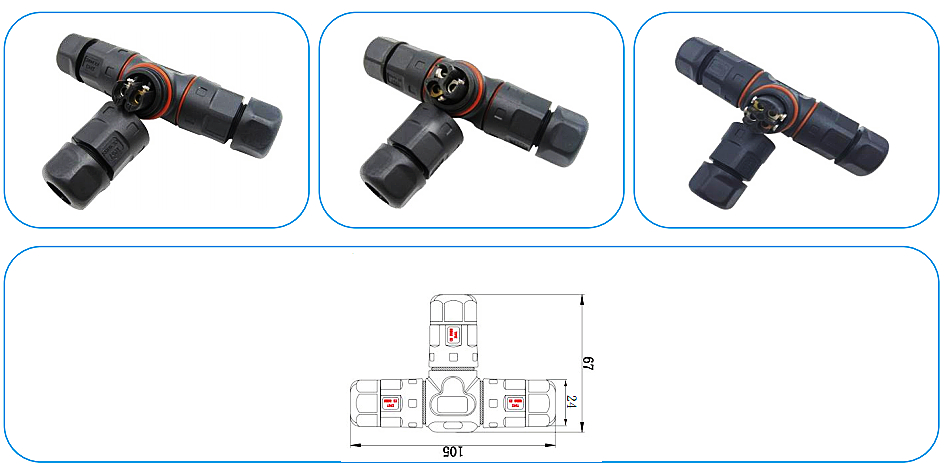 Pin Number
2
3
4
Current Rating
20A
20A
10A
Voltage Rating
250V
250V
250V
Wires size
≤1.5m²
≤1.5m²
≤1m²
Max Cable size (Dia): 10mm
Circuit Structure:Parallel
Contact Resistance:10MΩ
Insulation Structure:500MΩ at DC500V
Waterproof Level: IP68
Our IP68 Waterproof Wire Connector is designed to pool , pond , fountains and outdoor lighting, you can be sure that your connections will remain safe and secure, even in the toughest conditions.
Our connectors come in 2, 3, and 4 pin options, making it easy to find the right connector for your specific application. And with its simple plug-and-play design, installation is quick and easy, even for those without technical expertise.
So whether you're installing outdoor lighting, pool lights , fountain lights  or any other application that requires waterproof connections, the 2, 3, 4 Pin IP68 Waterproof Wire Connector is the perfect choice. Contact us today to learn more about our connectors and how they can help you achieve your outdoor lighting and equipment needs.