Pudisc underwater LED spot lights are bright, energy efficient, and attractively styled, making them perfect for virtually any underwater application. Ideal for installation in ponds, water features, fountains. we are engaged in lighting industry more than 30 years , it trustworthy.
Our led chip underwater spot light features 36*1 Cree LEDs . Includes easy-to-mount stainless steel U type basic, with mounting holes located two side (for screwing down the unit).,it could adjustable angle. Available in a variety of colors, as well as RGB(not 3-in-1), RGBW (not 4-in-1) or other led color chip . it's our new design underwater spot lights, smaller size is available.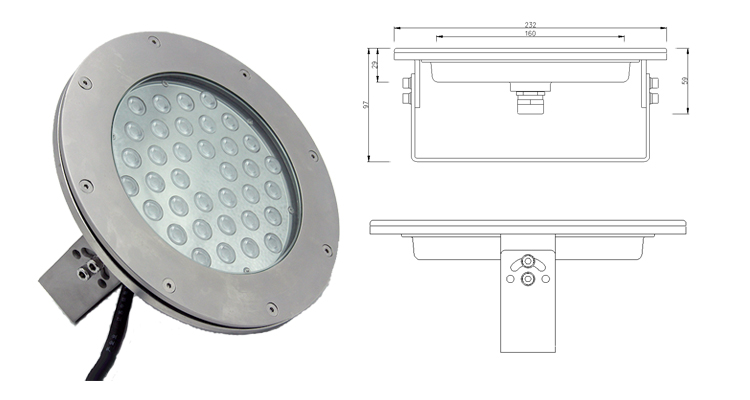 New design fountain show led spot lights color specification:
1. Runs on safe DC24V electricity and requires switching power supply, Suitable for underwater installation.(switching power supply and controller is extra)
2. Warm White (3000K), Cool White (6500K), Red , Green , Blue  or RGB ,RGBW  Cree led chip available — it support 4 wires control ,DMX512 or RDM control.
3.Stainless steel material lamp body , height of lights not more than 60MM. Cast stainless steel material available.
4.18*1W ,18*2W ,18*3W ,36*1W ,36*2W type available no matter single color ,rgb or other control system.
Feature
1. New design and high quality.
2. Fully submersible and perfectly sealed, waterproof spotlight adds a dazzle of color to your water fountain.
3. Comes with Cree LED Chip , 30° direction.
4. Can be mounted vertically or horizontally, Adjustable stand lets you point the light at different angles.
5. Ideal for aquarium, fountain or pond, illuminates and colors the aquarium,enliven the garden pond to get ideal atmosphere and beauty.
6. Super bright and long-lasting. Easy to install. 316 material could used in sea water.
Certificate: