SMD High power Pool Lights  is obviously useful for swimming at night. This allows you to swim your laps, even late at night. In addition, an illuminated swimming pool is an outstanding eye-catcher. It provides extra ambiance in your garden, make your pool colorful.
This is upgrade pool lights , it with a smart IC , that we call it temperature control system , could adjust the current to ensure the lights working safe , all the component couldn't working a long time over 60 degree centigrade, so we must control the temperature , that is reason why we need upgrade our led pool lights , i think it will meet the requirement of  higher power led pool lights .
SMD high power led pool lights without RGB color , yes , it unavailable ,  only signal color , such as : red , green , blue , white , warm white color,
led pool lights housing are 304 Stainless Steel Housing + one meter Power Cord, IP68 Level & Safety Voltage: Protection Grade is IP68, could be  put into the water for long time. Working Voltage is 12V AC or DC.
Lights Detail: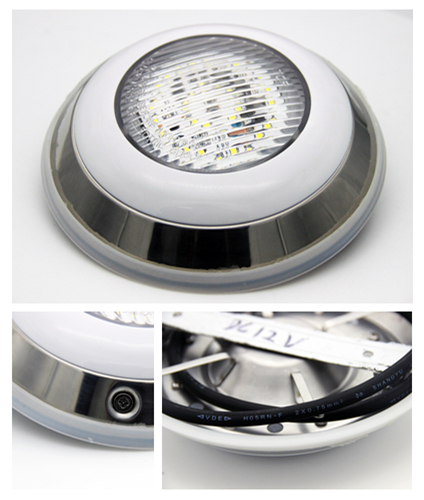 Housing are same as previous , we updated the PCB , you can see the it are difference with single led chip. but it don't have RGB color , you can visit this if you want RGB color: Stainless Steel Pool Lights 
Parameter :

Item No. : XYH 230G-SMD
LED Light Color : R, G, B, W, WW                           Input Voltage : 12V AC/DC
Wattage: 12W 18W 36W                                         Protection Grade : IP68 Waterproof
Cable Length : 1 m                                                   Material : 304 Stainless Steel Housing + PC Cover
Installation : Wall Surface Mounted Type                 Weight : 2.KG
SMD high power led pool lights only signal color available, lights with temperature control system , it will reducing current when the PCB over 60 degree , it make the life span longer , more reliable than old style.
Applications :
the SMD High power pool light  used in  Swimming Pools , wall mounted style more easy installation and replacement, When we think of high power pool lights, we first think of underwater lights in the walls of the pool. But most pools are surrounded by plants, works of art or sun terraces. Lighting can be placed here as well.
if you put some lights for your pool , it will looks like difference , following are from our client , you can see it , i  think you will  satisfied the light effect.